A Modern Approach For a Timeless Landscape
Landscape design is about more than plants. To create a particular outdoor concept, a successful company needs a combination of horticultural and botanical knowledge, experience in engineering, skill in design, and familiarity in communication. A landscape company needs to understand precisely what a client wants, have the ingenuity and creativity to transform those desires into a tangible result, and the expertise to do it all in a reasonable amount of time at pricing that's competitive.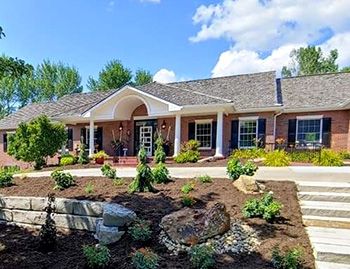 Get The Best Landscaping Design In Lincoln With New Horizon
At New Horizon Landscaping, that's what we do. As landscape designers, we've worked with residential and commercial clients throughout Lincoln to deliver impressive results since 1998. It's our belief that proper planning prior to the construction phase of a project ensures high-quality results.
During the design phase, we:
Establish a one-on-one relationship with the customer to ensure that customers and designers see eye-to-eye.

Implement softscape and hardscape design strategies to ensure customer satisfaction of finished project.

Revise plans as needed to accommodate changes.

Supervise the installation phase through completion.

Landscape Planning

Hardscape Installation

Plant Selection

Waterscape Installation
What Landscape Features We Can Provide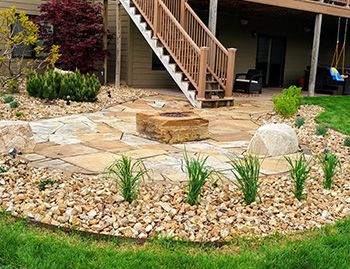 At New Horizon Landscaping in Lincoln, our landscapes are second to none because of our design process and because of the wide range of skills and services we offer.
Whether you're working on a new build construction project for your home or business or you're just refreshing the landscape on a property you already own, we can give you the landscape you've always dreamed of and make it sustainable as well. Here's just a few of the things we can do for your landscape.
Grading – If you're still in the very early stages of building a home or business and need someone to grade your foundation, we've got it covered.
Planting and Hardscapes – While your home is being built, or in the early stages of your landscape redesign, we can tackle planting and installing waterscapes and hardscapes.
Sod Installation – We'll lay the grass down as well, after we've gotten other features installed.
Landscape Maintenance and Mowing – After your landscape has taken hold, we can provide regular services to keep your lawn, bushes, trees and more looking as beautiful as the day we installed them.
Think it can't be done? Think your idea is impractical or unrealistic?
Our favorite challenges are the ones that the competition says are impossible. Whatever you have in mind, we'll finish it on time, on-budget, and deliver results that you'll love for a lifetime.