Lincoln's Trusted Drainage Correction Team
Water is one of the single most destructive forces on the planet. Waterfront cliffs, deep desert canyons, and steep, winding river banks all offer evidence of the power of water. However, water doesn't have to be a part of a massive ocean or a churning river to pose a threat to your home and property. Water that ends up standing, or worse, moving towards the foundation of your home can pose some serious — and potentially expensive — problems. Thankfully, the drainage correction team at New Horizon Landscapes can help prevent or address your home's landscape drainage needs. Learn more and get in touch with us for landscaping design in Lincoln today!
What Is Drainage Correction?
When it comes to landscaping design, drainage correction is a crucial part of the process. Drainage correction services provide homeowners with an effective and cost-efficient way to correct these issues. It involves strategically placing drains and swales around the home in order to redirect excess surface water away from the property. This helps protect foundations, patios, decks, and other exterior features from water damage. Additionally, effective drainage correction can also help mitigate flooding and standing water on properties. Professional drainage services allow for an efficient solution to these issues without the need for costly excavation or major landscaping projects. By properly addressing any existing drainage issues, homeowners can enjoy a well-maintained and aesthetically-pleasing landscape for years to come. This ensures the outdoor areas of the home remain safe from damage caused by excessive water, as well as providing an attractive addition to any property.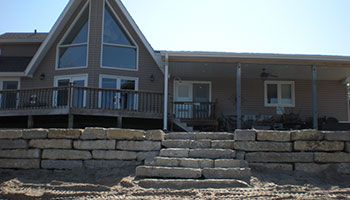 Why Choose New Horizon Landscapes For Your Drainage Correction Project?
We've been a trusted, local landscaping contractor in Lincoln for more than 20 years.
We place a premium on meticulous planning to help ensure your project runs smoothly.
We take a customer-centered approach to every client we work with.
We are drainage correction specialists able to handle larger correction problems such as grading and erosion control.
We're committed to providing the right solutions for your landscaping drainage challenges, no matter how big or small the job is.
If you're a homeowner, it's not uncommon to discover drainage correction needs on your property. Regularly finding unwanted standing water, soggy grass, or mud around your home can be an annoyance at best and the precursor to a major problem at worst. Since 1998, New Horizon Landscaping has helped residential and commercial clients throughout Lincoln and the surrounding areas with their drainage correction needs ranging from small preventative services to major interventions to save structures and protect outdoor spaces.
Common Property Drainage Problems In Lincoln
Wet ground — Soggy, wet, mushy ground is easy to spot and even easier to feel. This condition usually occurs due to unstable grading that promotes water gathering in unwanted places.. Since water takes the path of least resistance, it will collect in spots where grading does not allow drainage to a safe or appropriate area. This can be especially damaging if water collects and softens the ground around your home's foundation.
Puddles and standing water — Ideally, water should drain away from all areas of your property. If you see a puddle remaining 30 minutes or more after a rainstorm, the odds are good you have a landscape drainage problem that needs correcting. Puddles around the bases of structures — anything from your foundation to a simple fencepost — are early warnings of future problems. Furthermore, standing water can be an attractive breeding ground for mosquitoes and other undesirable flying pests.
Water flowing into your house — If you have wet carpeting or dampness near your doors or outer walls, it could be from water in the yard flowing towards your home due to a foundation drainage problem. Water in your home is about as serious as it gets and can create perfect conditions for mildew, mold, and fungus, create health issues, and exacerbate allergies and respiratory problems. But worse yet, it can quickly cause irreversible damage to your home that may or may not be covered by your insurance.
Get Ahead Of Landscape Drainage Issues With Help From New Horizon Landscapes
If you suspect that you may have a landscape drainage issue, don't wait around for the expensive-to-repair proof to show up. Instead, get ahead of the problems by getting in touch with the team at New Horizon Landscapes. Our team of expert drainage correction specialists can help you determine if you really do have a problem. And if you do, they can walk you through the entire process — from estimate to execution — so you understand all of your options.
Discovering a drainage problem on your property can be worrying and intimidating. New Horizon Landscapes is here to provide peace of mind along with our world-class services. Whether you need us to fix a leaking foundation or get rid of a wet spot on the lawn, we can handle it. To schedule a free estimate for your drainage correction job, contact us online or by phone today to get started.