Exceptional Lawn Mowing Service In Lincoln
Who doesn't love a freshly mowed and properly landscaped lawn? Lawn maintenance services from New Horizon Landscapes will help take your lawn to the next level!
New Horizon Landscapes and Design will transform your lawn into a lush, beautiful oasis of green that will leave your neighbors jealous. Our grass masters ensure that your lawn will stand out from the others in your neighborhood, which can help improve the look and feel of your home, and in some cases, even its value. Get started with lawn maintenance services today!
The Ultimate Lawn Service Professionals
Details matter, which is why our professional lawn mowing service gives you more than just your weekends back. We provide you the most complete lawn services in the area.
As part of our lawn maintenance services, we will assess your lawn for pests, or if it needs fertilization. And, of course, we'll coordinate with you on the day of your lawn maintenance services to organize watering and other pre-mowing services. Give us a call and be the envy of the neighborhood.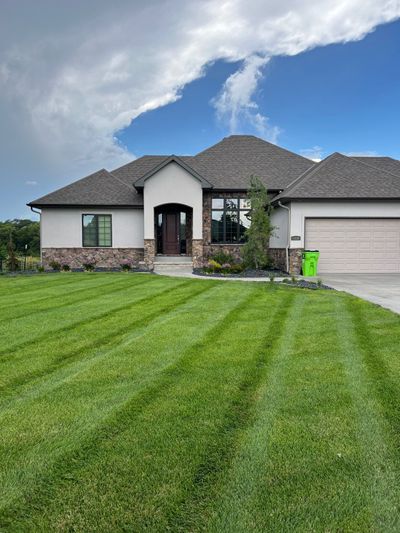 Benefits of letting a mowing service take care of your lawn:
More free time for you
Avoid injuries
Cost-effective
Consistency
Professional care
Healthy lawn
Curb appeal
Professional knowledge
As a homeowner, time is probably in short supply for you. Along with your professional life, your responsibilities to family and friends, and handling the day-to-day chores that always come up, you need to keep your home looking good. One of the biggest and most obvious details you need to oversee is mowing the lawn.
The fact is, mowing the lawn is a seemingly easy activity that's actually more complex than it seems. When it's done well, the value of your property will increase, as will your curb appeal. That's why the smart move is to reach out to New Horizon Landscaping. Since 1998, our lawn mowing services have provided residential and commercial landscaping clients in the Lincoln area the care their lawns need. When it comes to mowing, we take a seasonal approach. When the growing season comes around, we can aerate your lawn, which perforates the soil and allows larger amounts of air, water, and nutrients to nourish the root system. As a result, healthier roots will grow and produce stronger blades of grass.
The Benefits Of Regular Mowing
There are many benefits to regular mowing, when you choose New Horizon for mowing you'll enjoy:
Eliminated pests from grass because of a lack of coverage and desirable breeding grounds
An equal distribution of nutrients for your grass because it is being cut evenly rather than overgrowing in one spot
Strong, vibrant grass, as with each cut, only the strongest shoots recover
A freshly "fertilized" lawn with every cut, as the cut blades will fall and decompose into the soil.
A landscape that you will be proud to drive home to, be ready for entertaining, and that will be all your own
At New Horizon, we're truly an all-service landscaping company. Mowing is just one of the many lawn maintenance services we provide to take care of the health of your lawn, along with mulching, trimming, fertilizing, and more with our regular lawn service.
From grading and designing the landscape for a new construction project, to helping farmers in the area with erosion control, and just regular lawn mowing and maintenance, we do it all in terms of landscaping for Nebraska. During summers, we can provide you with either regular appointments for mowing and edging, or we can come to you a single time to get things cleaned up. When autumn rolls around, our team of Lincoln landscapers can remove leaves and prepare your lawn for winter.
Get Your Lawn Mowing And Landscaping Services From New Horizon Today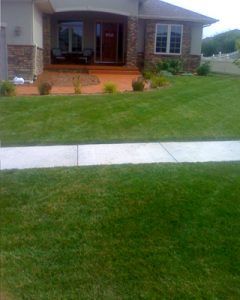 Take your life back and let us handle your lawn with our mowing services. For more information about comprehensive lawn care in Lincoln, NE, contact us online or by phone today! With New Horizon, you'll have one of the best landscapes in Lincoln!