Design For Life, Design For Your Lifestyle
New Horizon Landscapes and Design is a full-service project management and landscape design company dedicated to improving your quality of life through landscaping.
Bringing Your Vision To Life
Transform your outdoor living space into an urban oasis. Our eye for outdoor landscape design can help turn your outdoor space into a unique and beautiful extension of your home. We can create outdoor space that offers privacy when you entertain.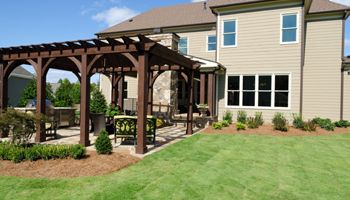 Our values are based on our love for nature and the environment. Here are a few reasons why landscape architecture is important:
Preservation of nature
Water management
Clean soil and water
Air purification
Care for plants
Relief from hot weather
Provide outdoor recreation
Provide outdoor entertainment
Outdoor Entertainment Spaces
As long as there have been homes to own, homeowners have always tried to devise ways to boost the value of their properties. We should mention that the idea of value doesn't always have to do with the dollar amount of the home. Instead, "value" can refer to aesthetics, and for many people, they value a place that's beautiful and inviting. That's where hardscapers come in.
Your idea of an outdoor entertainment space is just that — yours. You might envision a raucous summer cookout, or perhaps you yearn for a private oasis. To make your idea a tangible reality, partner with the landscaping professionals at New Horizon Landscaping. Since 1998, our landscape designers have utilized a wide variety of design elements in order to transform boring spaces into something extraordinary. From flagstone to paver installation, water features to fire pits and much more, our team recognizes that personalization is the name of the game.
To deliver a personal experience, our hardscape designers will work directly with you and utilize one-on-one communication. By ensuring both parties see eye-to-eye, we can bring your vision to life in precisely the way you want it. To take the first step, contact us online or by phone today.